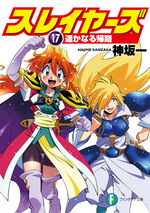 Slayers Vol. 17: The Long Road Home (Japanese: 遥かなる帰路 Romaji: Harukanaru kiro) is the seventeenth book in the Slayers novel series, written by Hajime Kanzaka and illustrated by Rui Araizumi. It was published on October 19th, 2019 by Kadokawa Shoten Publishing. Thanks to J-Novel Club rescuing the license of the series in 2020, we may see it in English soon. Current release date unknown.
Plot Information
Synopsis
Major events
Debuts
Ran
Norst
Gardova
Regennel
Setting
Time: Approximately 1013-1014

AK

(?)
Place:

Luzilite

and surrounding areas.
Characters
Bronco

Ran

Morgan

Gardova

Regennel