We're Getting Mutants in the MCU - The Loop
Play Sound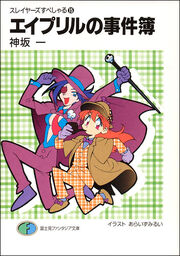 Slayers Special (Japanese: スレイヤーズ すぺしゃる Romaji: sureiyāzu supesharu) is a series of 30 novels written by Hajime Kanzaka and illustrated by Rui Araizumi. Each volume consists of one-shot stories (sometimes, 2-chapters stories) about a pre-Slayers Lina Inverse and Naga the Serpent. From its 31th volume, the title changed to Slayers Smash.
Novels #1 to #8 contain five conclusive episodes, previously published in the Monthly Dragon Magazine, while novels #9 to #30 contain three 2-chapters episodes. Besides, except novel #8, all other novels have another conclusive episode, written specifically for each novel. This last episode is subtitled as Slayers Excellent (novels #1 to #7) and as Slayers Superior (novels #9 to #30).
Moreover, there are three special chapters (subtitled as "Slayers Gaiden" in the novels, but known as "spin-off"), starring three well known characters in adventures of their own: Amelia (novel #13), Zelgadiss (novel #18) and Gourry (novel #21).
Finally, four of the episodes published in the Dragon Magazine were first published as four mini-bunko format novels, called Slayers Delicious, before being included in the Slayers Special volumes.
A four volume manga also called Slayers Special was published, its chapters loosely based in some novels episodes.
Novel list
Volume
Title
Release date
ISBN
01
The Prince of Saillune


白魔術都市

の王子
July 1991
4-8291-2405-9
02
Little Princess
リトル・プリンセス
March 1992
4-8291-2431-8
03
Naga's Adventure
ナーガの冒険
October 1992
4-8291-2464-4
04
Plot of the Sorcerer's Guild
魔道士協会の陰謀
June 1993
4-8291-2506-3
05
Fight! Our High Priest
戦え!ぼくらの大神官
October 1993
4-8291-2527-6
06
Knockdown! Hero-sama!
打倒!勇者様
October 1994
4-8291-2431-8
07
Good Luck, Necromancer
がんばれ

死霊術士

January 1995
4-8291-2604-3
08
Dreadful Future
恐るべき未来
July 1995
4-8291-2637-X
09
Ileez's Travels
イリーズの旅路
April 1996
4-8291-2681-7
10
Being a Goddess of Destruction is Hard
破壊神はつらいよ
October 1996
4-8291-2711-2
11
Violent Race! Stagecoach
激走!乗合馬車
July 1997
4-8291-2759-7
12
The Maid Might Witness It
家政婦は見たかもしんない
December 1997
4-8291-2789-9
13
Respect is Depressing
仰げば鬱陶し
July 1998
4-8291-2826-7
14
Haunted Night?
ホーンテッド・ナイト?
October 1999
4-8291-2923-9
15
April's Casebook
エイプリルの事件簿
July 2000
4-8291-2983-2
16
Scramble Grill
スクランブル・グリル
December 2000
4-8291-1316-2
17
Small, Strong Melody
小さな濃いメロディ
June 2001
4-8291-1362-6
18
Dispute About the Succession of the Ranger
跡継騒動 森林レンジャー
December 2001
4-8291-1398-7
19
Lunatic Festival
るなてく・へすてばる
July 2002
4-8291-1450-9
20
Mission Possible
ミッション・ポシブル
February 2003
4-8291-1498-3
21
Thy Name is Sweet Potato
汝その名はスイートポテト
August 2003
4-8291-1544-0
22
G Hunter Folkus
Gハンター・フォルクス
February 2004
4-8291-1589-0
23
Break of Destiny
ブレイク・オブ・ディスティニー
October 2004
4-8291-1654-4
24
Threat of the Underground Kingdom
地底王国の脅威
April 2005
4-8291-1710-9
25
Encouragement of Chivalry
騎士道のススメ
October 2005
4-8291-1763-X
26
Missing Saint
ミッシング・セイント
April 2006
4-8291-1811-3
27
Stamp to Kill
スタンプ・トゥ・キル
July 2006
4-8291-1839-3
28
Potion Scramble
ポーション・スクランブル
January 2007
4-8291-1893-1
29
Magical Old Woman Princia
魔法の老女プリンシア
July 2007
4-8291-1944-6
30
The Silver Bullet
白銀の弾丸
January 2008
4-8291-3258-6