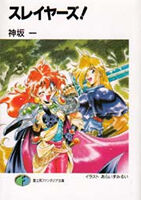 The Slayers novels is a series of 17 novels written by Hajime Kanzaka and illustrated by Rui Araizumi. The novels tell the story of Lina Inverse and Gourry Gabriev and their adventures.
The series is divided into two story arcs: Novels 1-8 make up the first story arc, while novels 9-15 make up the second arc. 16 is considered a standalone story, and 17 begins the third arc. Slayers and Slayers NEXT were based off the first novel arc and then was adapted into a manga called Slayers Super-Explosive Demon Story with eight volumes, while the second novel arc was never adapted into anime or manga form.
The novels were all published in Japan by Kadokawa Publishing, from 1990 to 2000. Novels 1-8 were first translated and published in the US by TOKYOPOP, but the company chose not to license any further volumes (for more information, see the article on novel 7.) In 2020, Slayers was licensed again by J-Novel Club, who intend to translate each volume from scratch. The books are initially published in digital format only, with physical omnibus volumes being released later on.
In addition, there are 30 Slayers Special novels and 4 Slayers Delicious novels novels.
Novel list
Volume
Title
Release date
ISBN
01
Slayers! (Tokyopop title: The Ruby Eye)
スレイヤーズ!
January 17 1990
Tokyopop: September 2004
J-Novel Club: August 17, 2020
4-8291-2345-1
US: 1595320946
02
The Sorcerer of Atlas
アトラスの

魔道士

August 20 1990
Tokyopop: December 2004
J-Novel Club: October 5, 2020
4-8291-2369-9
US: 1595320954
03
The Ghost of Sairaag
サイラーグの

妖魔

February 18 1991
Tokyopop: March 2005
J-Novel Club: November 9, 2020
4-8291-2388-5
US: 1595325794
04
The Battle of Saillune


聖王都動乱

October 17 1991
Tokyopop: June 2005
J-Novel Club: December 14, 2020
4-8291-2412-1
US: 1595325808
05
The Silver Beast


白銀の魔獣

July 13 1992
Tokyopop: September 2005
J-Novel Club: January 18, 2021
4-8291-2454-7
US: 1595325816
06
Vezendi's Shadow


ヴェゼンディの闇

March 12 1993
Tokyopop: December 2005
J-Novel Club: March 11, 2021
4-8291-2495-4
US: 1595325824
07
Gaav's Challenge


魔竜王

の

挑戦

December 10 1993
Tokyopop: January 2008
J-Novel Club: April 14, 2021
4-8291-2536-5
US: 1427805040
08
King of the City of Ghosts


死霊都市

の

王

August 28 1994
Tokyopop: January 2008
J-Novel Club: May 28, 2021
4-8291-2575-6
US: 1427805059
09
The Cursed Sword of Bezeld
ベゼルドの

妖剣

June 20 1995
J-Novel Club: August 4, 2021
4-8291-2633-7
10
Solaria's Strategy
ソラリアの

謀略

December 21 1995
J-Novel Club: September 22, 2021
4-8291-2658-2
11
Crimson Delusion
クリムゾンの

妄執

July 25 1996
J-Novel Club: November 24, 2021
4-8291-2693-0
12
The Stratagem of the Army of Dynast


覇軍

の

策動

April 18 1997
J-Novel Club: January 20, 2022
4-8291-2740-6
13
Road to the Demon's Reincarnation


降魔

への

道様

November 27 1998
J-Novel Club: April 6, 2022
4-8291-2856-9
14
Hatred in Sellentia
セレンチアの

憎悪

July 21 1999
J-Novel Club: June 15, 2022
4-8291-2904-2
15
Demon Slayers!
デモン・スレイヤーズ!
May 10 2000
4-8291-2966-2
16
Chance Encounter in Atessa
アテッサの邂逅
October 20 2018
4-04-072905-3
17
The Long Road Home
遥かなる帰路
October 19 2019
4-04-073377-7