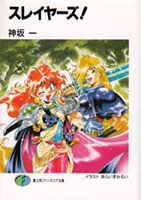 The Slayers novels is a series of 17 novels written by Hajime Kanzaka and illustrated by Rui Araizumi. The novels tell the story of Lina Inverse and Gourry Gabriev and their adventures.
The series is divided into two story arcs: Novels 1-8 make up the first story arc, while novels 9-15 make up the second arc. 16 is considered a standalone story, and 17 begins the third arc. Slayers and Slayers NEXT were based off the first novel arc and then was adapted into a manga called Slayers Super-Explosive Demon Story with eight volumes, while the second novel arc was never adapted into anime or manga form.
The novels were all published in Japan by Kadokawa Publishing, from 1990 to 2000. Novels 1-8 were translated and published in the US by TOKYOPOP. Currently, TOKYOPOP has no plans to publish novels 9-15 (for more information, see the article on novel 7.)
In addition, there are 30 Slayers Special novels and 4 Slayers Delicious novels novels.
Novel list
Edit
Community content is available under
CC-BY-SA
unless otherwise noted.